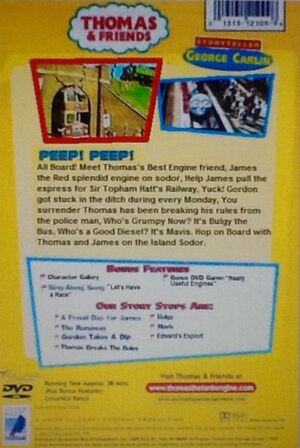 Write the text of your article here!
Storyteller
Edit
A New Friend for Thomas
Percy Proves a Point
Whistles and Sneeze
A proud day for James
James learns a lesson
Follish frieght Cars
Percy's Predicament
Daisy
Percy takes the plunge
Saved from scrapp
Thomas gets tricked
Edward helps out
Diesel's devious deed
Pop goes the diesel
Percy's ghostly trick
Thomas and Bertie's great race
Donald and Douglas
Thomas goes fising
Terance the tracter
Trouble for Thomas
A big day for Thomas
Come out Henry
Henry to the rescue
Thomas breakes the rules
Toby the tram engine
Gordon takes a dip
Thomas saves the day(s1 )
Down the mine
A close shave for Duck
James in a mess
Thomas comes to breakfest
The flying kipper
Pery and the signal
Thomas and the conductor
Better late then never
The Runaway
the Deputation
the Diseal
Wrong road
Percy runs away
Tenders and Turntables
Trouble in the shed
Double Trouble(S2)
Thomas'christmas party
Thomas and the missing christmas tree
Bertie's chase
Duck takes charge
A cow on the line
Henry's special coal
Old Iron
Edward's exploit
Bonus Features
Edit
Friend Facts
Calling all engines!- Read Along
Steamie or Diesel?
Sneak Peeks
Hit Extras
Thomas and friends Partners 
Ad blocker interference detected!
Wikia is a free-to-use site that makes money from advertising. We have a modified experience for viewers using ad blockers

Wikia is not accessible if you've made further modifications. Remove the custom ad blocker rule(s) and the page will load as expected.