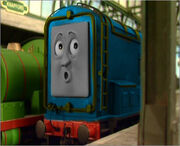 Jaakko is friends with Daisy, Splatter, Dodge, Arry, Bert, Sidney , Paxton and Diesel 10.  and enimies wit Thomas,Edward,Henry,Gordon,James and Percy. he is mean , devious, rude and evil , Jaakko is mean to  the   steamies he is mean he is also Diesel's brother. he is just like Diesel. which is why he and Diesel realy get along though he does not like steam engines.you could easily tell them apart becasuse Diesel is black and Jaako is blue
Ad blocker interference detected!
Wikia is a free-to-use site that makes money from advertising. We have a modified experience for viewers using ad blockers

Wikia is not accessible if you've made further modifications. Remove the custom ad blocker rule(s) and the page will load as expected.